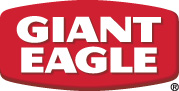 Description
1918-1950s:
Three families Goldstein, Porter and Chaiti build a small grocery company that they call Eagle Grocery. They are so successful at this business that it grows steadily to 125 stores. In 1928, these three families sell Eagle Grocery to the Kroger Company. As part of their arrangement with Kroger, the families agree to leave the grocery business for a period of three years.
In the meantime, two families Moravitz and Weizenbaum have been building their own successful chain of grocery stores named OK Grocery. In 1931, the five families Goldstein, Porter, Chait, Moravitz, and Weizenbaum combine forces to form Giant Eagle®. The first Giant Eagle® supermarket opens on Brownsville Road in 1936. Throughout the 30s and 40s the chain grows steadily while operating Giant Eagle® supermarkets and OK Grocery Food Stores in local Pittsburgh-area neighborhoods, despite the desperate times of The Depression and World War II.
1950s: Pioneers of the Modern Supermarket
Giant Eagle® delivers value and convenience to growing families in post-war America.
Introduces its own trading stamp program, Profit Sharing (P.S.) Blue Stamps, which leads to more growth for the company.
Stays ahead of the trends as one of the first grocers in Pittsburgh to introduce vertical glass-front freezer cases.
Establishes a gourmet food section.
Begins offering seasonal consumer products like plastic lawn furniture and snow shovels.
Introduces Blue Ribbon Beef.
Expands the average store size to 15,000 square feet.
1960s: Simplifying Grocery Shopping
Giant Eagle® updates its programs in response to consumer demand and the industry direction.
Responds to consumers; wishes by discontinuing Blue Stamps and replacing them with lower prices, surprising the grocery industry and spurring an article in the Wall Street Journal.
Computerizes buying system and mechanizes order filling and loading procedures.
Purchases the former Kroger warehouse in Lawrenceville to more than double its warehouse area.
Opens 20,000 square-foot store at South Hills Village and updates other stores, demonstrating its commitment to ongoing improvement.
Arranges with the G.C. Murphy Co. to build supermarkets next to new Murphys Marts department stores around the Pittsburgh area.
1970s: The Innovations Continue
Giant Eagle® continues to help families cope with lean economic times.
Responds to inflation with low prices and the introduction of generic products.
Emphasizes value-driven, company-owned brands like Food Club, from Topco.
Makes lowest price pledge.
Introduces open-code dating.
Establishes first in-store bakeries for baked goods.
Expands deli sections.
Builds a 481,000 square foot warehouse in Pittsburgh's West End.
Stores remain open for 24 hours for the first time.
Establishes store hours on Sundays to provide shopping seven days a week.
1980s: 50 Years and Going as Strong as Ever
Giant Eagle® continues to lead the industry by expanding in-store services.
Celebrates 50 years in the business.
Operates 52 stores.
Acquires Tamarkin, a retail and wholesale grocer in Youngstown, OH.
Opens first independently owned store in Monaca.
Introduces Absolute Minimum Pricing, a move that attracts national attention and helps drive food prices in the Pittsburgh region down from the country's highest to one of its lowest.
Builds on store-within-a-store convenience by adding pharmacy, floral, automotive, housewares, books, greeting cards, photo development and video rentals.
Installs efficient bar code scanners at registers, as well as convenient ATMs.
Continues community involvement with Round-up for the Hungry, Smash Cash, recycling services, and Apples for the Students.
Introduces Cookie Cards, proceeds of which benefit local children's hospitals.
1990s: Accommodating Busy Families
Giant Eagle® further simplifies grocery shopping for busy customers.
Grows to 137 stores, ranging in size from 106,000 square-feet superstores to small neighborhood markets.
Introduces the Eagle Nest, an in-store, supervised learning activity center for shopper's children.
Adds in-store services including dry cleaning and laundry, and in-store banking.
Establishes Natures Basket®, making it easier for our health-conscious customers to find food and information resources that fit their lifestyle in one place.
Enhances customer services with new in-store banking operations with flexible hours and at the check-out, the ability to use banking cards to pay without cash or check.
Rolls out the Giant Eagle Advantage Card, making it easy for customers to rent movies, cash checks and take advantage of special discounts and loyalty rewards.
Continues supporting communities with sponsorships including the Giant Eagle® LPGA Classic, local sports teams and countless community events.
2000 and Beyond: Building on Tradition
Giant Eagle® continues its commitment to customer convenience and value.
Operates more than 200 stores, with the purchase of Riser Foods in Cleveland and County Markets in Maryland. Giant Eagle® now has stores throughout Western Pennsylvania, Central and Northern Ohio, Northern West Virginia and Western Maryland.
Employs over 35,000 throughout stores, warehouses and corporate offices.
Expands the menu at The Kitchens at Giant Eagle®. Customers can now choose from variety of prepared entrees and side dishes, hot and cold sandwiches, pizza, chicken and a host of other healthy, wholesome meals for busy families.
Grows line of Giant Eagle® brand products and introduces the double your money back if not completely satisfied guarantee.
Introduces GetGo® from Giant Eagle® and launches customer loyalty gas programs fuelperks and foodperks! in select markets.
Develops a new foodie destination with Market District®, a brand new store format that invites customers to experience an exploration of food that is inspiring and enjoyable.
Send Message to listing owner